Wet Jobs
This section is all about jobs in and around water

, including many reader reports and stories.

Do you work in or near water? Is it a dry job, or do you go into the water a lot? What do you do? What equipment do you use? What clothes do you wear at work? We'd love to hear your stories.

Adventure Centres
Working in an adventure centre is exciting and varied. Daily pool training and outdoor activities keep the staff busy. They often get wet during the many activities, like canoeing, rafting, coasteering, and all the fun in the swimming pool. It also involves hanging a lot of wet clothes up do dry. Pool parties happen most nights, which always includes a another good soaking.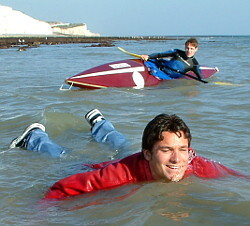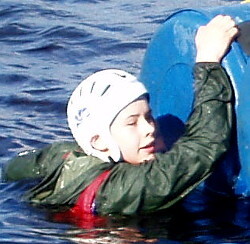 Swimming Teachers
While swimming lessons are supervised by lifeguards, teachers can go into the pool to demonstrate a specific swimming skill or help out in case of difficulty. The main focus of lessons is drowning prevention, like swimming in clothes, to prepare for the unexpected fall into the water. Teachers lead by example and wear quick drying clothes in the pool.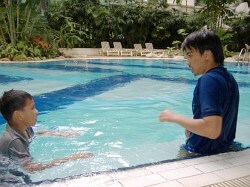 Individual lessons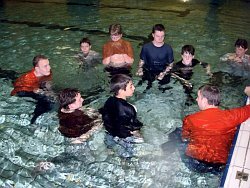 Swimming class
Pool Lifeguards
Pool lifeguards can be recognised by their uniform which they always wear on poolside and in the pool when helping a swimmer or for staff training. They also clean the pool and pick up bits from the bottom.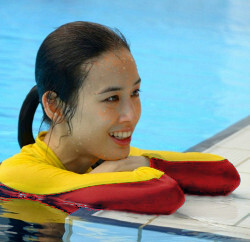 Lifeguards always wear their red and yellow uniform.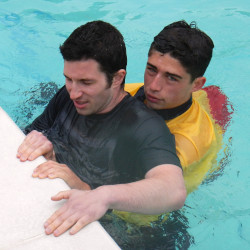 Sometimes swimmers need help in the water.
Beach Lifeguards
Jobs on the beach are fun but can be demanding. Beach lifeguards patrol the beaches, observe and supervise swimming areas to prevent accidents, and make sure swimmers are aware of dangerous situations and avoid hazards.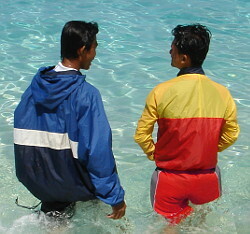 Lifeguards often go into the water to help bathers or give swimming lessons.
Quick drying sun protection clothes keep them safe on the beach and in the sea.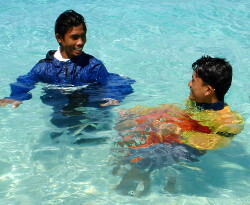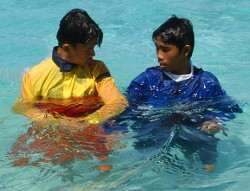 Boat Rentals
Messing around in boats is huge fun. The people who rent out boats or jet skis help their clients get in and out from the beach, or swim out to get a moored boat. They often show clients how to launch and land the boats.
Taking clients to remote beaches by boat is more relaxing. On arrival they jump into the water and pull the boat ashore for the visitors to disembark. Then they keep them entertained with a lot of wet fun on the beach. This work means going into the water all day long.