Clothing Tips for Songkran
Travel Light
If possible, travel only with carry-on luggage, at least on the outbound journey. Not only do you travel faster, you also avoid trouble with lost or mis-directed bags. Some people, who use your checked bags to smuggle stuff, can cause you serious problems. You can get in Thailand whatever you need and at low cost.
Your clothes should be lightweight and multi-purpose. They should look as good in the restaurant as they do in the pool or on the beach. Hoods are essential to avoid sunburn when swimming, as sun lotion washes off. Bring a thin cotton hoodie, maybe an anorak or poncho.
Make sure your clothes fit well, both wet or dry. Try them in your bath or shower, then in a pool or open water. Remember, on Songkran you will be in wet clothes all day long. Wet clothes can chafe after a while. Avoid that, maybe with soft clothes or soft underwear.
On this page we give you a few clothing tips for Songkran. Try them and send us some feedback, please.
The Songkran custom is to get wet in clothes and you do well to respect that and join them. Instead of swimwear bring quick drying clothes that look good on dry land and in the water.
During the 3 days of the Songkran Festival you may find yourself outdoors for most of the day, sweltering in 40°C heat. Wet clothes with a hood or a hat help you keep your cool.
Above all make sure your clothes fit well and don't chafe. Remember, you'll be in wet clothes the whole day long. If you get chafed, you will be most uncomfortable and may risk infection. Always wear a long T-shirt and long underwear to avoid chafing.

Recommended Outfits
T-shirt, Jeans and Hoodie
Most locals wear jeans and T-shirt when they "play water". A hoodie or rain jacket comes in handy when you're sensitive to the sun.
Jeans and Jacket
This outfit is popular among visiting foreigners and some locals. The main advantage is the robust fabric. If you play it wild, jump into the water and climb out all the time, this outfit is best for you. There are now jeans hoodies available. Designed like a hoodie but made from denim, they look really cool when wet.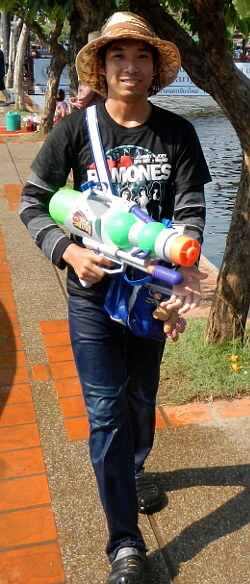 Hats avoid sunburn.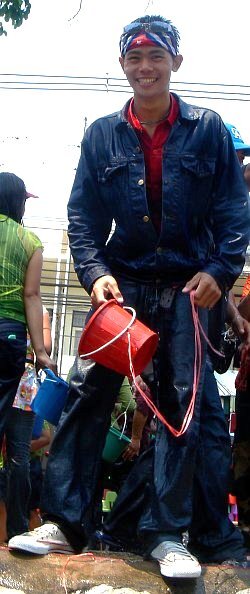 Jeanswear is very popular.
Rainwear and Ponchos
If you really want to be targeted for a good soaking by the locals, wear some waterproof clothing, like anoraks or ponchos. Combined with thin rain pants you will be teased and soaked a lot. It's just like asking for it.
Songkran revellers see waterproof clothes as a challenge, grab your collar and pour a bucketful of water in to soak all your clothes. When you go into the water, they may come up to you and touch you, as a poncho in the water is a novelty.
Anoraks and rain jackets are becoming more popular with the locals. They are more lightweight to swim in, provide good sun protection and glisten in the sun when wet.