Huay Tueng Tao Lake
This beautiful lake near Chiang Mai in Northern Thailand is popular with families and young people, they're having a real blast. It is a beautiful place to go when you're looking for a fun and entertaining afternoon, only about a twenty-minute drive north-west of the Old City. More than likely, you'll be the only foreign face there.
The view at Huay Tung Tao Lake is stunning. The still waters are backed by nearby mountains and the lake is lined with picturesque grass huts. The weather is comfortably pleasant all year round.

Swimming
Kids and college students play in the water fully clothed. They enjoy swimming, floating in big rings, walking the perimeter, and eating yummy food.
Swimming in clothes is the norm in South-East Asia. You'd look out of place in a skimpy swimming brief. Just do as the local people do and you'll be fine. For swimming choose comfy casual clothes or quick drying sportswear. Sunshine can be intense so you may want a hooded top for when you go into the water.
When you arrive, pick a little hut for shade, order some food, and jump into the lake to cool off. Keep your wet clothes on when you come back to the hut. This will keep you pleasantly cool.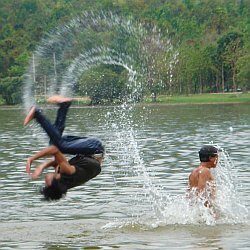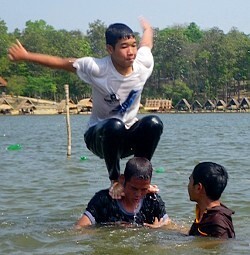 Hiking
Best time is the rainy season May to October. The weather is fresh and not too hot (around 30°C) with many refreshing showers to get you wet.
Sunny mornings are followed by rainy afternoons and often a bright sunset. Heavy downpours can happen overnight.
The paved road around the lake offers a pleasant route for you to walk or ride your bikes. When you get too hot go for a swim at the many beaches. Afterwards your wet clothes will keep you cool as they dry on you. Think of it as personal air-conditioning.
There are small vendors selling things during the day. Most restaurants sell bottled water. Bring your own water or water treatment if you are camping.
Dress in functional quick drying clothes and bring a useful poncho or hiking cape. This lets you go into the lake whenever you like without the fuss of having to change clothes all the time. They'll dry on you as you hike along.

Food and Drink
Friends and families relax in the little picnic huts and enjoy delicious food and cold beverages. There are about twenty restaurants surrounding the lake that serve food and drinks in a picnic-like setting. Guests can enjoy food in the little huts made of bamboo and wild grasses, complete with shade and a cool cross breeze over the lake.
The restaurant's menus are written in both Thai and English. The better menus have photos of the dishes. However, the staff doesn't speak much English, so pointing and holding up fingers is the way to order if you don't speak restaurant Thai.

Directions
Begin by exiting Chiang Mai Old City via the northwest corner of the Old City Square Moat on Huaykaew Road (Route 1004). Drive 2 km. Turn right at the second major intersection onto Canal Road (Route 121). Drive 4 km.
At the 4 km mark, you will pass the 700 Year Old Stadium Sports Complex, which will be on your left hand side. Drive 2 km more and you will pass the first blue sign that says Huay Tung Tao Lake on the left side of the road. Less than a minute later (half a kilometre) you will see a second blue sign for Huay Tung Tao Lake on the left side of the road.
Immediately after the second sign, you will approach two white bridges; turn left at the second one. Cross over the bridge and follow the road straight and then again as it makes a 90 degree right turn. You will approach a check point, at which you will pay a park fee of 20 baht per person. Continue straight and then turn right at the T-Junction. Follow the perimeter of the lake. Bear left at any forks.
Our first trip to Huay Tung Tao Lake was with six people. We shared a Songtaew ride from the Old City. Our driver took us there, waited for three or three and a half hours, and then drove us back for 600 baht (18 USD). Split six ways, that was a mere 100 baht per person for the round-trip.
Opening Times Although we did not see any public signs for the open and closing times for the park, we think we can safely assume that is open by 8am (9am at the latest) and it closes around sunset.
Park information: There is a small ranger's station with a few English leaflets about the park and a basic map. Friendly Thai speaking staff.
Entrance fee: 50 Baht per foreigner and 20 baht per Thai person. Sadly, there's dual pricing here.
Parking: Free for cars and motorbikes
Toilets: Near the food places